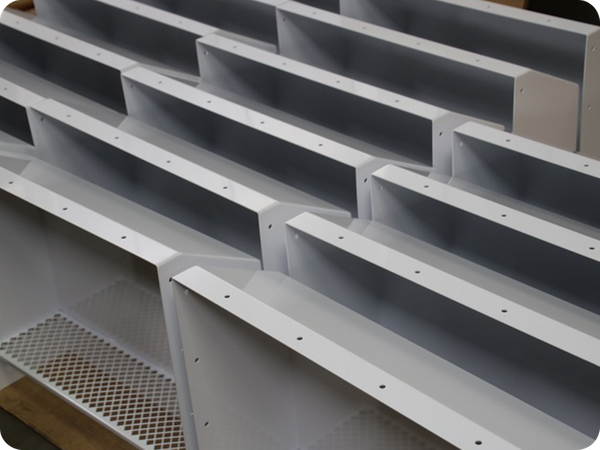 At Fab-Tech, Inc., we manufacture the cooling airflow hoods highlighted here. We also produce accompanying fan mounts and shrouds for use with the large industrial vector drives utilized in the energy sector. Producing these various weldments and assemblies involved all departments on our shop floor. We developed, and diligently follow, a detailed production plan to ensure all elements are fabricated, finished, welded, and assembled accurately and on schedule.
Tapping into a multitude of our in-house capabilities, we prepare CAD files and drawings for production and quality control. Fabrication methods include laser cutting, punching, and precision forming, and with our equipment resources, we are able to hold close tolerances across multiple bends without having to use expensive custom jigs and fixtures. The same holds true for welding. Our welders use freehand methods without needing a custom fixture to ensure quality and accuracy.
Additional shop floor activities include hardware installation and surface preparation, which consists of grinding, sanding, and a pre-paint conversion coating on the 14 ga mild steel before we give the assemblies the required powder coated finish. In-process inspection ensures dimensional and aesthetic requirements are conforming at every stage. A cost-conscience approach to packaging these items for shipment to the customer's factory ensures budgetary compliance and damage-free parts.
Overall, the customer is exceptionally satisfied with the quality of these assemblies, and we continue to supply them at the rate of several hundred per quarter. With our ability to provide consistent quality under relatively tight tolerances, this company continues to reward us with additional work. To learn more about this project or our end-to-end sheet metal fabrication capabilities, contact us today.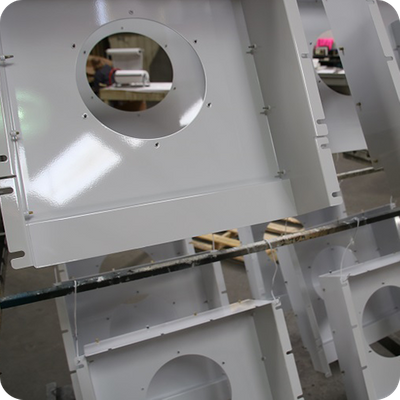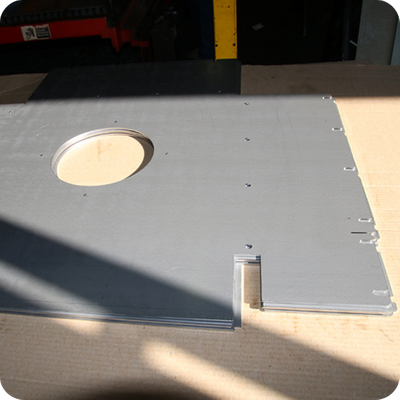 Cooling Airflow Hood Highlights
Project Name & Description
Capabilities Applied/Processes
CAD, Laser cutting, turret punch, precision forming, welding, hardware installation, grinding/sanding, pre-paint conversion coating, masking, powder coating, packaging
Equipment Used to Manufacture Part
Amada 4Kw laser, Amada Vipros 255 Turret, Amada RG-50 press brake, Millermatic TIG, Pemserter press, hand-held grinders/sanders, iron phosphate conversion line, Nordsen powder machine, Rapid Engineering bake oven.
Powder coating over mill run raw finish
In Process Testing/Inspection Performed
Dimensional, visual, film thickness