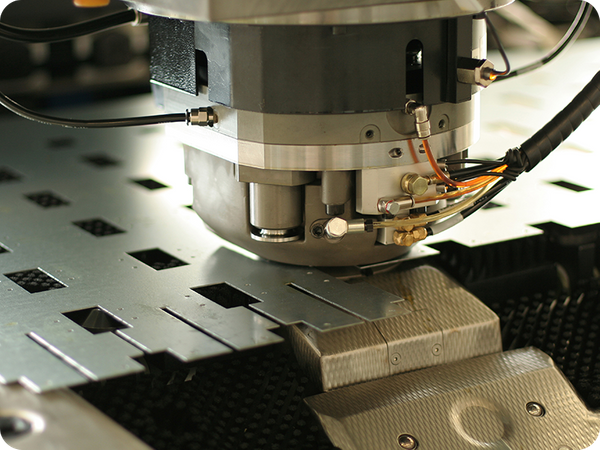 As part of our precision sheet metal fabrication capabilities, at Fab-Tech, Inc. we offer laser cutting services for the production of quality parts and fabricated assemblies. We're equipped with an advanced flying optic laser cutter that is one of the most efficient machines on the market today and allows us to process a wide variety of materials with low operating costs. The versatility of this system makes it possible to produce parts of all shapes and sizes that have finely detailed features and complex curves and angles. With 4000 watts of power, we can cut through up to 0.50" mild steel and 0.25" thick stainless and aluminum. A high-precision motion control system and state-of-the-art optics enable this machine to produce clean cuts with close tolerance precision.
We process sheet material measuring up to 60.0" in width x 120.0" in length. Nesting software combined with a focused beam that makes narrow kerf cuts enable us to maximize material yield. Programmable operation allows for an exceptional degree of accuracy and part-to-part consistency while nitrogen-assist cutting produces clean, striation-free and burr-free edges that improve the appearance of the workpiece and minimize the need for secondary finishing operations.
As a solutions-oriented metal fabrication company, we offer a number of additional services, including welding, hardware installation, and finishing to meet your end-to-end production requirements. With our ability to perform these secondary processes in-house, we maintain control of quality and can guarantee timely delivery of your finished goods. To learn more about our ISO 9001:2008 compliant laser cutting services or request a quote, contact us directly.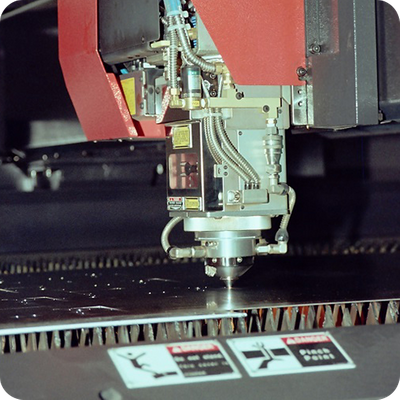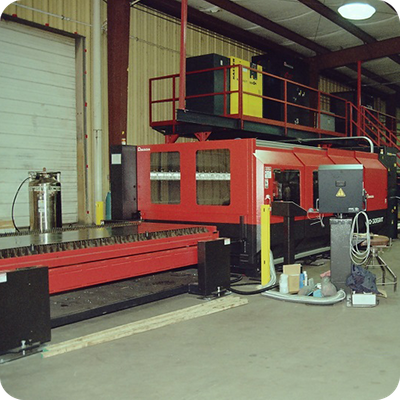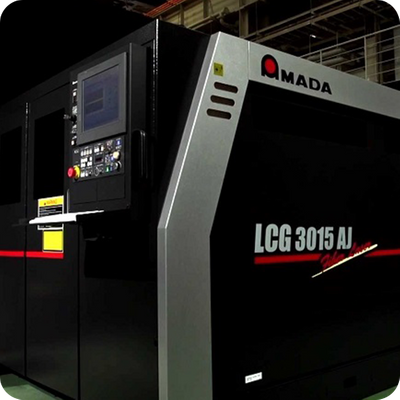 Custom Contract
Fabrication
Custom Light Gauge Metal Fabrication
In-House Finishing Services
Flying Optics
Flying optics lasers feature a stationary table and a cutting head (with a laser beam) that moves over the work piece in both of the horizontal
dimensions. Flying-optics cutters keep the workpiece stationary during processing and often don't require material clamping.
Intended Cutting Material (Metal)
Aluminum
Inconel
Monel
NonFerrous Metals
Stainless Steel
Steel
Thin Metal
Cutting Diameter
Stainless Steel
Steel
Thin Metal
Kerf
Kerf is the width of the cut or groove.
Amada FO-3015NT
4000-watt laser cutting system
Rapid Process of 18 gauge CRS
16 gauge Stainless Steel
Rapid Pierce of ¼" CRS
Water Assisted Cutting (WACS) of ¾" CRS
Specifications:
Flying Optic Design
Max Sheet Size for 3015 – 60" x 120"
4kW Standard
4 Programmable Assist Gas Ports
Automatic Focus Control
Dust Collector
Chiller
Beam Purge Device
In-House Finishing Service
Hardware Installation
Precision Welding
Powder Coating and Painting
Printing/Silk Screening
Electro Plating
Anodizing
Kitting
Light Assembly
Low Volume
High Volume
Blanket Orders
Quoted on job by job basis
Aerospace
Agricultural
Telecommunications
Medical Equipment
Security
High Tech
Military/Defense
Transportation
Law Enforcement/Public Safety
Oil/Gas Industry
Vending Machines
Marine
Electronic
Pharmaceutical
ANSI - American National Standards Institute
ASME - American Society of Mechanical Engineers
ASTM - American Society for Testing and Materials
AWS - American Welding Society
ISO 9001:2008 - International Organization for Standardization (Compliant)
Mil-Spec - Military Specifications (Compliant)
RoHS - Restriction Of Hazardous Substances (Compliant)
AutoCAD (DWG, DWZ)
BMP - Bit Mapped Graphics
DXF - Drawing Interchange Format, or Drawing Exchange Format
GIF - Graphics Interchange Format
IGES - Initial Graphics Exchange Specification, ANSI file format.
Inventor (IDW, IPT)
JPG or JPEG - Joint Photographic Experts Group
MasterCam (MDX, MC8, MC9, SET)
PDES - Product Data Exchange using STEP, Standard for the Exchange of Product Model Data. A standard format for exchanging data between Advanced CAD and CAM Programs.
PDF - Portable Document Format
Pro-E or Pro/Engineer (DRW, PRT, XPR)
SAT
3D ACIS Model File
SolidWorks (SLDPRT, SLDDRW, SLDDRT)
STEP - Standard for the Exchange of Product Model Data
TIFF - Tagged Image File Format