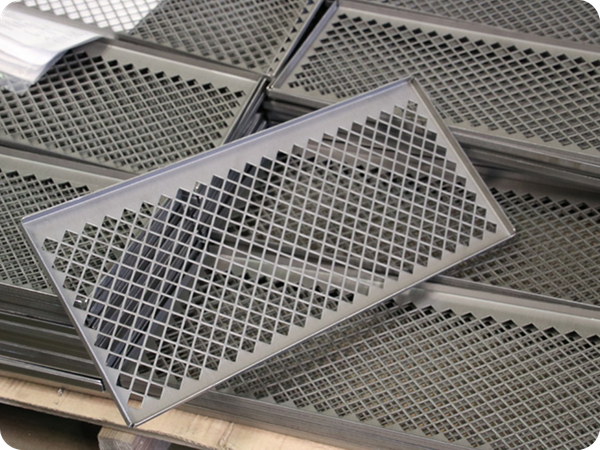 Precision punching and stamping are among our many specialties here at Fab-Tech, Inc. Our main concentration is working with light gauge materials, and we have the capacity to supply parts in very high volumes. With our insight, experience, and resourcefulness, we have the qualifications to satisfy the strictest quality criteria, which is demonstrated by our strong presence in the telecommunications, military, medical equipment, and other demanding markets.
Using our turret punch press, which features high-speed operation and flexible tooling options, we can quickly produce features like louvers, bridges, and embosses. In addition to light gauge metals such as aluminum, steel, stainless steel, copper, and others, we fabricate parts from rigid plastics, including polycarbonate, phenolics, and FR-4. Our 45-ton and 80-ton stamping presses hold die sets measuring up to 24.0" x 36.0" and our capabilities include coining, progressive die, compression, continuous strip, and several other stamping methods. We can build your tooling, or you can ship us your existing dies. All of our presses are equipped with automatic feeders and coil reels, which allows them to run uninterrupted with little to no manual intervention.
As a customer-focused organization, we take quality very seriously. The cumulative effect of the many small improvements we make to our internal processes on a daily basis enables us to continually enhance quality and efficiency to serve our customers the best way possible. Our prices are very competitive, and our delivery dates are firm. To learn more about our precision punching and stamping capabilities contact us today. We welcome an opportunity to supply you with a quote.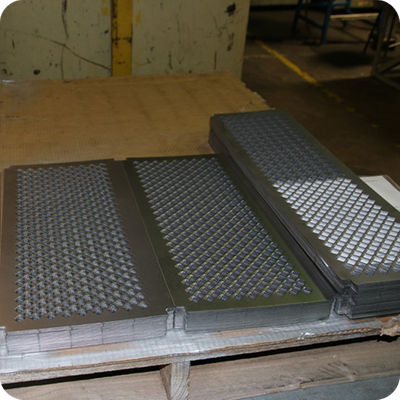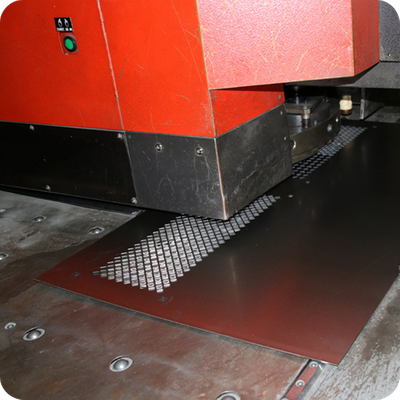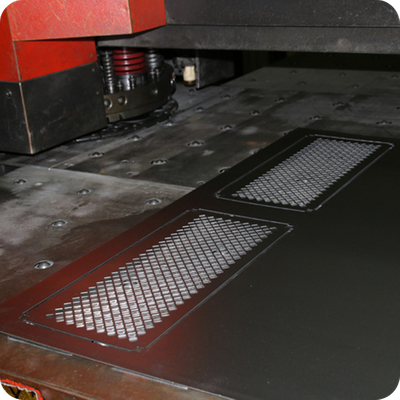 Punching & Stamping Highlights
Custom Contract
Fabrication
Custom Light Gauge Metal Fabrication
In-House Finishing Services
Coining
Compression
Continuous
Continuous Strip
Forming
Perforated Metal
Progressive Die
Punch Press
High Strength
High Volume
Medium-To-Large
Presses (max die set size: 24 in x 36 in)
Amada Vipros 255 (Turret)
Komatsu 80T (automatic feeder and coil reel)
Komatsu 45T (automatic feeder and coil reel)
Walsh 35T
Aluminum
Beryllium Copper
Brass
Carbon Steel
Copper
Lead
Sheet Metal
Spring Steel
Stainless Steel
Steel
Tempered Steel
Wire Cloth
In-House Finishing Service
Hardware Installation
Precision Welding
Powder Coating and Painting
Printing/Silk Screening
Electro Plating
Anodizing
Kitting
Light Assembly
Low Volume
High Volume
Blanket Orders
Quoted on job by job basis
Aerospace
Agricultural
Telecommunications
Medical Equipment
Security
High Tech
Military/Defense
Transportation
Law Enforcement/Public Safety
Oil/Gas Industry
Vending Machines
Marine
Electronic
Pharmaceutical
ANSI - American National Standards Institute
ASME - American Society of Mechanical Engineers
ASTM - American Society for Testing and Materials
AWS - American Welding Society
ISO 9001:2008 - International Organization for Standardization (Compliant)
Mil-Spec - Military Specifications (Compliant)
RoHS - Restriction Of Hazardous Substances (Compliant)
AutoCAD (DWG, DWZ)
BMP - Bit Mapped Graphics
DXF - Drawing Interchange Format, or Drawing Exchange Format
GIF - Graphics Interchange Format
IGES - Initial Graphics Exchange Specification, ANSI file format.
Inventor (IDW, IPT)
JPG or JPEG - Joint Photographic Experts Group
MasterCam (MDX, MC8, MC9, SET)
PDES - Product Data Exchange using STEP, Standard for the Exchange of Product Model Data. A standard format for exchanging data between Advanced CAD and CAM Programs.
PDF - Portable Document Format
Pro-E or Pro/Engineer (DRW, PRT, XPR)
SAT
3D ACIS Model File
SolidWorks (SLDPRT, SLDDRW, SLDDRT)
STEP - Standard for the Exchange of Product Model Data
TIFF - Tagged Image File Format