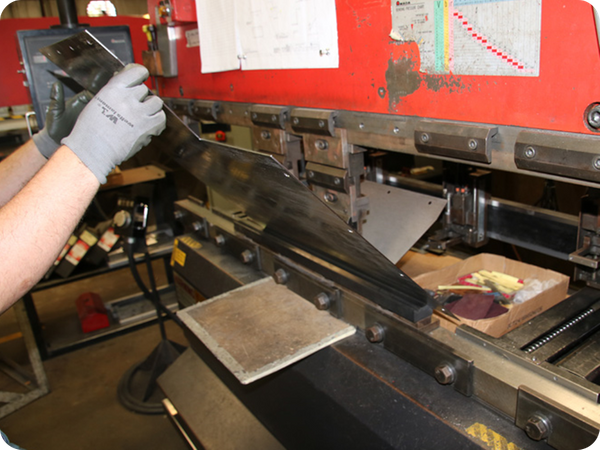 At Fab-Tech, Inc., we are accomplished in all aspects of precision sheet metal fabrication. We excel at crafting dimensionally accurate sheet metal parts and assemblies that have complex requirements. Our specialty is working with light gauge metals such as aluminum, copper, steels of all grades and temper, including stainless, and many other materials. Solutions-oriented, we are equipped to manage your parts production and have the production capacity to meet tight deadlines.
Our fabrication facility houses a comprehensive lineup of equipment, including laser cutters, punch presses, and press brakes with programmable back gauges. Our press brakes incorporate a variety of specialized tooling, allowing us to perform a large mix of forming operations while holding very close tolerances. Our shop is also outfitted with a next-generation vertical machining center as well as deburring and grinding machinery.
For assembly, we have automated hardware installation presses and numerous welding stations. Most sheet metal fabrications require a finishing touch, and with three paint/powder coating booths and a five-stage phosphate cleaning line we can conveniently complete your job right here in-house. We also provide part marking and labeling. High quality electroplating, anodizing, and passivation processes are available in our local area.
Whether you need production of sheet metal parts and shapes or a supply of ready to assemble kits, we are equipped to accommodate your needs. Our craftspeople have an excellent mix of skills and a passion for quality. We are ISO 9001:2008 compliant and qualified to comply with Mil-spec and other industry standards. Contact us today to learn more about our precision sheet metal fabrication services or request a quote.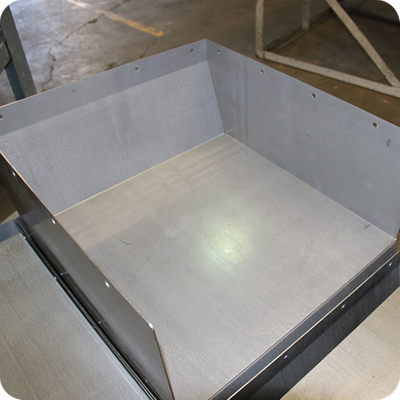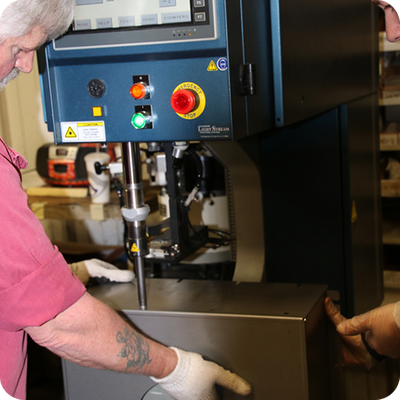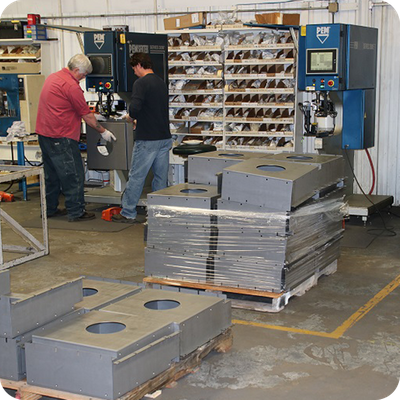 Sheet Metal Fabrication Highlights
Custom Contract
Fabrication
Custom Light Gauge Metal Fabrication
In-House Finishing Services
Forming
Bending
Light Gauge Rolling
Anodizing
Bending
Deep Drawing
Electrical Discharge Machining (EDM)
Folding
Forming
Laser Cutting
Painting
Plating
Powder Coating
Punching
Rolling
Shearing
Stamping
Stretch Forming
Stretch forming equipment produces complex shapes by stretching a metal sheet over a form die.
Water Jet Cutting
Welding
Aluminum
Beryllium Copper
Brass
Carbon Steel
Copper
Lead
Sheet Metal
Spring Steel
Stainless Steel
Steel
Tempered Steel
Wire Cloth
Turrets
Laser
Press Brakes
2 Amada RG50 w/programmable back gauge
Amada RG103 w/programmable back gauge
Wysong 100 Ton
Chicago 30 ton
Version 30 ton
Machining Centers
Presses (max die set size: 24 in x 36 in)
Niagra 150T (automatic feeder and coil reel)
Komatsu 80T (automatic feeder and coil reel)
Komatsu 45T (automatic feeder and coil reel)
Walsh 35T
Hardware Installation
2 Pemserter Series 4 hardware installation presses
2 Pemserter Series 2000 with automatic feed
Various pneumatic hand presses for installing hardware (self-clinching studs, standoffs, nuts, etc.)
Welding
4 Millermatic TIG
2 Millermatic MIG
3 Resistance Spot Welders (one vertical press type for weld nut installation)
Oxy/Acetylene
Deburring/Graining
Vibratory deburring machine
Timesaver 36"
Timesaver 9"
Several vertical belt sanders
Various handheld sanders & grinders
Finishing
3 Binks Ventilated Paint Booths
Spray Guns and Pots
4 Nordsen Powder Machines
8'x8'x20' Gas Fired Oven, 100°F to 500°F, PLC Controlled, Temperature recording
Five Stage Iron Phosphate Cleaning Line
Zinc, Ni, Cu, Cd, Sn/Pb Electroplating
Chemical Oxidation on Al (Alodine/Irridite, etc.)
Aluminum Anodizing
In-House Finishing Service
Hardware Installation
Precision Welding
Powder Coating and Painting
Printing/Silk Screening
Electro Plating
Anodizing
Kitting
Light Assembly
Low Volume
High Volume
Blanket Orders
Quoted on job by job basis
Aerospace
Agricultural
Telecommunications
Medical Equipment
Security
High Tech
Military/Defense
Transportation
Law Enforcement/Public Safety
Oil/Gas Industry
Vending Machines
Marine
Electronic
Pharmaceutical
ANSI - American National Standards Institute
ASME - American Society of Mechanical Engineers
ASTM - American Society for Testing and Materials
AWS - American Welding Society
ISO 9001:2008 - International Organization for Standardization (Compliant)
Mil-Spec - Military Specifications (Compliant)
RoHS - Restriction Of Hazardous Substances (Compliant)
AutoCAD (DWG, DWZ)
BMP - Bit Mapped Graphics
DXF - Drawing Interchange Format, or Drawing Exchange Format
GIF - Graphics Interchange Format
IGES - Initial Graphics Exchange Specification, ANSI file format.
Inventor (IDW, IPT)
JPG or JPEG - Joint Photographic Experts Group
MasterCam (MDX, MC8, MC9, SET)
PDES - Product Data Exchange using STEP, Standard for the Exchange of Product Model Data. A standard format for exchanging data between Advanced CAD and CAM Programs.
PDF - Portable Document Format
Pro-E or Pro/Engineer (DRW, PRT, XPR)
SAT
3D ACIS Model File
SolidWorks (SLDPRT, SLDDRW, SLDDRT)
STEP - Standard for the Exchange of Product Model Data
TIFF - Tagged Image File Format